Due to government and consumer demand, the construction sector is increasingly moving towards greener solutions. In this situation, the industry must think more about new and improved solutions that would reduce our ecological footprint for the environment. There are many ways to contribute to a greener future. 

We at Primostar have made a significant effort and investments in developing our integral, i.e., White Tank waterproofing solution that would be reliable and as optimal as possible, making it by default a green and sustainable below-grade waterproofing solution.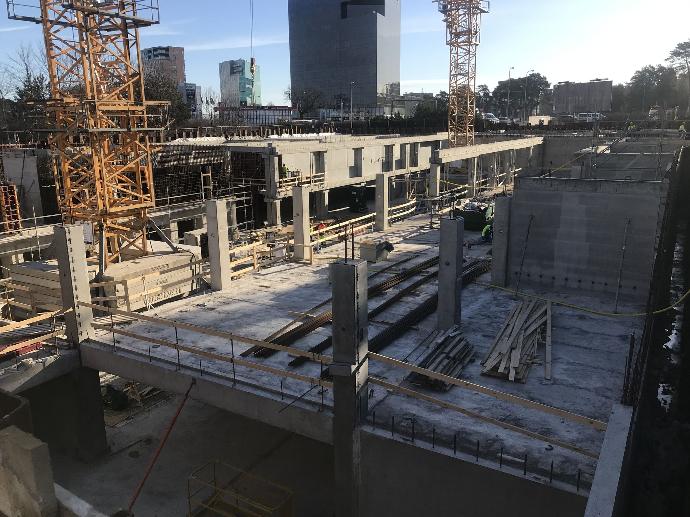 To understand better the sustainable and green aspects of our White Tank solution, we have brought into focus the following keywords:
raw material

quantity of materials

installation costs

transportation

longevity
The listed keywords indicate where we have optimized consumption. This article will explain how we used these keywords in the integral waterproofing solution.
A greener integral, i.e., the White Tank waterproofing solution, basically consists of three components:
Crack Inducer Profile - Controls shrinkage cracks
Construction joint profile - waterproofing construction joints
Crystalline waterproofing admixture - makes concrete waterproof
What makes a White Tank waterproofing solution green?
Raw Material
A White Tank, i.e., an integral waterproofing solution, is significantly more optimal and environmentally friendly than a Black Tank, i.e., a membrane waterproofing solution.

WPM® metal-sheet waterstops mainly consist of two raw materials:
galvanized steel sheet

mineral coating material
Galvanized steel sheet is one of the more economical ways of producing durable and long-lasting metal, whereas steel dipped in a zinc bath multiplies its life. Furthermore, at the end of the life of the same material, it is possible to recycle it.

The mineral coating contains natural components that are safe for the environment.

The main components of the crystalline waterproofing admixture are aluminum hydroxide, calcium hydroxide, and silicon dioxide, which are widespread compounds in nature. Thanks to the properties of the components, the crystalline admixture reacts with the compounds found in the concrete. As a result, it forms a crystal structure that permanently closes the pores, capillaries, and microcracks, thereby reducing water penetration into and through the concrete. Through this process, concrete acquires self-healing ability.

It is impossible to explain the reaction equations of the crystal structure formation process in more detail because the recipes and chemical composition of all additives that reduce the capillary water absorption of concrete are patented.

Quantity of Materials
Since the amount of materials used for an integral waterproofing solution is 2-8X smaller than membrane waterproofing, significant resource saving is achieved in material production and transportation.
Installation Costs
Significant savings also occur in the installation of materials. In the case of cold-applied and self-adhesive membrane waterproofing materials, there is no need to burn the membrane to the structure with a gas burner; therefore, the material consumption and labor time are optimized. If the entire structure is covered with a membrane, according to our calculations, the amount of material used will be at least 2x greater than with an integral waterproofing solution. With that, we can also expect at least 2X greater labor costs, if not more.
Transportation
When packaging WPM® profiles, we have used the flatpack philosophy, which allows us to store and transport more material thanks to flat packaging. With this, we contribute to a more thoughtful and environmentally sustainable way of working, where we can transport significantly more of the same goods with the same means of transportation and thus produce less CO2 and other greenhouse gasses.
Longevity
As we have done many concrete structures restoration, we discovered that concrete does not deteriorate from 20cm below grade when restoring 100 years old concrete buildings. This means that if a house is designed for 100 years, integral waterproofing will last as long as that concrete structure! On the other hand, membrane waterproofing material's life expectancy is 25-50 years which is 2-4x less than integral waterproofing, which gives us a total of 4-16x less material consumption through the building's lifecycle.
All this together makes integral, e.i., White Tank waterproofing solution, a sustainable and greener waterproofing solution to below-grade reinforced concrete structures. Furthermore, considering the amount of integral waterproofing we have helped to create over the years, we have reduced different membrane materials production and use about 5 529 600 kg plus greenhouse gasses made by transportation to distribute these materials to different stores and construction sites.
More about the materials:
Crack-inducing element - WPM® Crack Inducer Profile
The WPM® Crack Inducer profile is designed to control and waterproof shrinkage cracks in below-grade concrete structures made of waterproof concrete. But we noticed that if a large volume of concrete is poured at once, shrinkage cracks over 0.4mm will appear, which the crystalline waterproofing admixture cannot grow together. The same happens with intermediate ceilings in underground parking lots. Although the crystalline waterproofing admixture can heal cracks up to 0.4mm in about 28 days, a dynamic crack in an underground car park is in daily motion (expands-narrows) and, therefore, never gets enough time to heal. As a result, the self-healing process begins but will never be able to finish in time. The crack-inducing profile installed in the intermediate floor structure creates controlled cracks, ensuring the water-tightness of the dynamically loaded structure.
It is essential to point out the shape of the crack-inducing profile. We have developed it so that a binding keyway-shaped crack occurs inside the structure, which maintains its load-bearing capacity.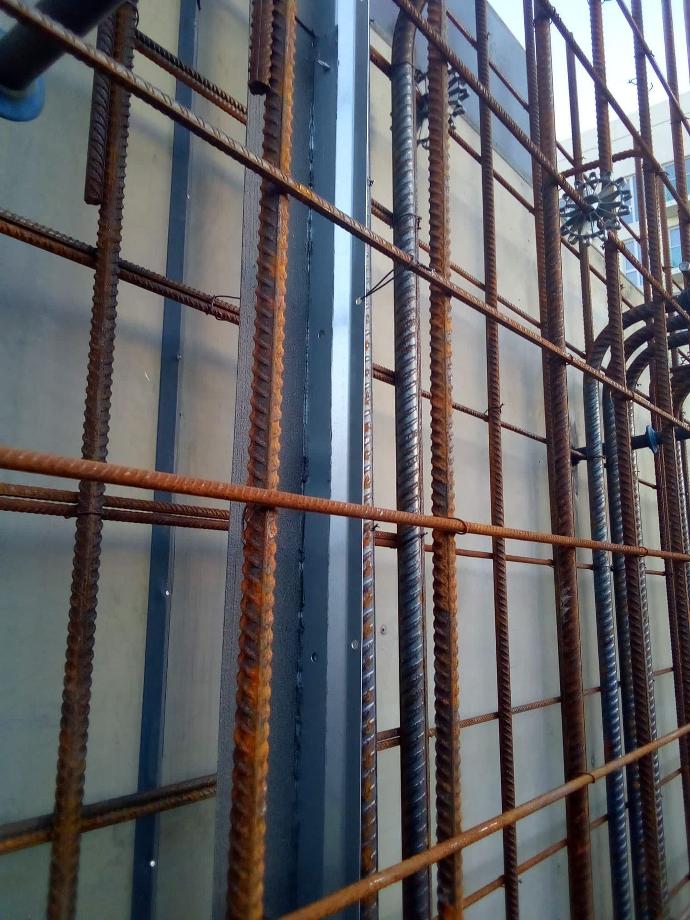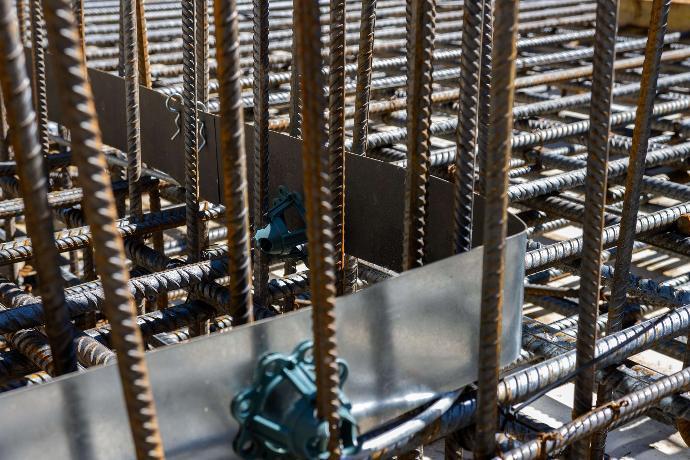 Construction Joint Profiles, i.e., Metal-Sheet Waterstops
WPM® metal-sheet waterstops are made of either 0.5 or 0.7 mm galvanized steel sheets, which are covered with a special elastic mineral coating. The mineral coating ensures the profile's adhesion to concrete, making it more watertight.
The construction joint profiles can be installed in the concrete during casting; the crack-inducing element is installed between the rebars before casting. Then, the concrete company installs metal-sheet waterstops to construction joints. This gives construction companies the ability not to use external waterproofing membranes. By that, the integral waterproofing solution significantly saves time and, thus, labor costs.
Crystalline Waterproofing Admixture
The crystalline waterproofing admixture gives the concrete self-healing ability, which can close the static cracks in the concrete with an opening of less than 0.4 mm. The admixture reacts with the free lime found in the concrete. It forms a crystal structure that permanently closes the pores, capillaries, and microcracks, thereby reducing water ingress into the concrete. With this reaction, concrete acquires the ability to self-heal. The ingredients of the crystalline waterproofing admixture are environmentally safe materials found in nature. The admixture is added to the concrete mix at the concrete plant.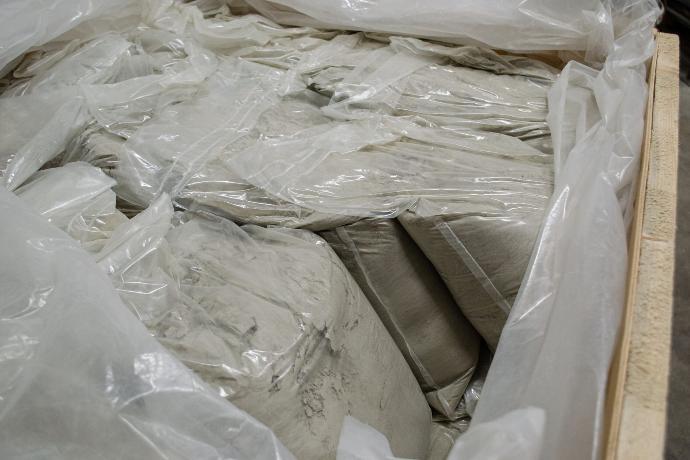 If you want to know whether and how we can make your concrete structures waterproof, and speed up the casting process with the white tank method, feel free to contact us so we can review the project together.