Two system solutions are used for waterproofing underground concrete structures. To ensure a safer and more reliable water barrier, it is possible to use both solutions simultaneously to back up each other, but generally, only one of them is used at a time. These solutions are:


Membrane waterproofing or black tank

Internal waterproofing, i.e., white tank


Membrane waterproofing is also called a black tank because, figuratively speaking, the rolling membrane creates a black bowl around the outer surface of the concrete, which protects the concrete structure from water and moisture infiltration.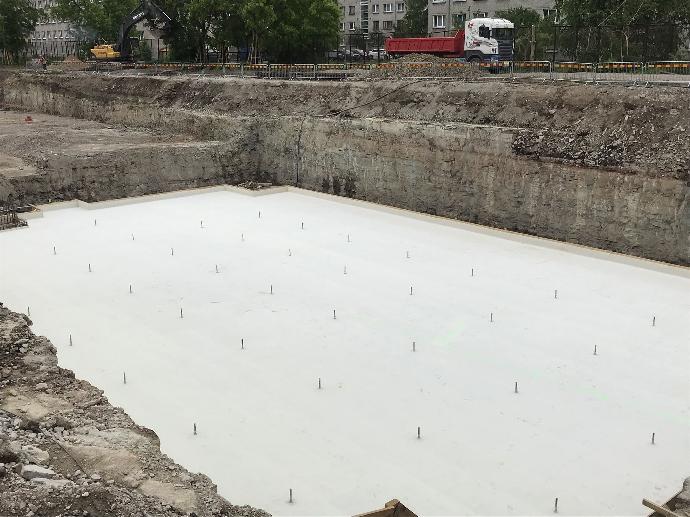 WFP Pre-Tec Membrane Plus pre-installed waterproofing membrane
The advantages of the roll membrane solution compared to the internal structure, i.e., the white tank solution is gas and water vapor density and the fact that there is no need to plan for shrinkage cracks during concrete work.

Nowadays, more and more attention is being paid to environmental sustainability and reducing the footprint, which forces builders to think about greener solutions.

As we have been on the market for more than 20 years, we have constantly been accompanying the green movement, even partly leading it, by choosing consciously such waterproofing materials that would meet the ever-increasing requirements of environmental sustainability.
Bitumen-based SBS has been one of Estonia's most common waterproofing roll materials for many years. However, although SBS has been widely used for waterproofing underground structures, the construction market is slowly moving away from it. The reason lies in the material's properties: the installation method and lifetime of the SBS roll material are many times lower than the modern KÖSTER Bikuplan KSK SY 15 roll material.

According to the manufacturer, the lifetime of Bikuplan KSK is at least twice as long as that of SBS coating – 50 years. To achieve equivalent water and pressure resistance, we need one layer of Bikuplan KSK but at least two or three layers of SBS. The thickness of one layer of Bikuplan KSK is 1.5mm, and the thickness of the SBS coating is 5mm. In summary, it can be said that using two layers of SBS material, the material savings with Bikuplan KSK is six times. 

​ also has advantages when it comes to installation – it is cold-adhesive and, therefore, much faster to install compared to hot-adhesive SBS, which requires the use of a gas burner for installation. Bikuplan KSK also has a significantly greener footprint – yes… both materials are made of bitumen. Still, Bikuplan KSK is made of 2-fold laminated polyethylene film and plastic bitumen-rubber mass, and it takes at least 12 times less to achieve the same building life compared to SBS.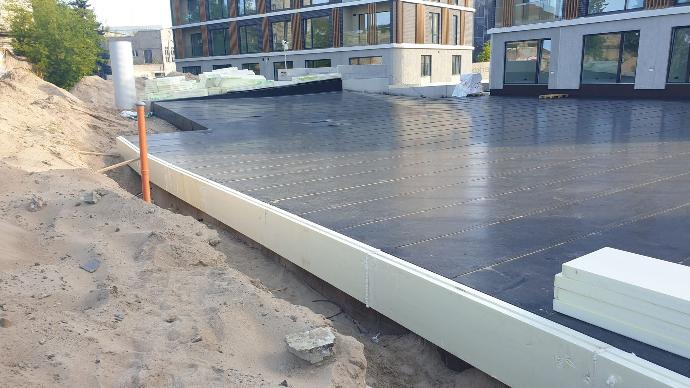 In addition to Bikuplan KSK, the pre-installed WFP Pre-Tec Membrane Plus roll membrane, mainly used as a waterproofing layer under a slab foundation, is also rising in popularity. Pre-Tec can also be used vertically if the waterproofing is installed before the concrete is poured. Over the years, various materials have been used for waterproofing the slab foundation, which has served their purpose and is probably still doing so today. 

However, Pre-Tec shines and stands out due to its features and material. It consists of very flexible plastic and an adhesive layer, which adheres when in contact with fresh concrete and therefore does not require heat treatment for installation. And in a leak situation, we can most likely be sure of its location. While with other membranes, in case of damage, water can seep through the damaged membrane's whole under the whole slab (between the floor slab and the waterproofing) and give a false impression of the leak's location. Thanks to the self-adhesive properties of Pre-Tec, we can be pretty sure that the source of the leak is nowhere else than where it appears. When Pre-Tec is used with concrete that has a crystalline admixture added, we can say with confidence that the leak is precisely where it seems.

If you want to know if and how we can make your concrete structures waterproof, then contact us, and we will review the project together.